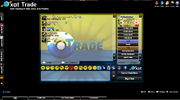 Trade chat is a popular chat were all xat users trade their powers/xats/days.
http://Xat.com/Getpowers To Buy Powers
http://Xat.com/Subscribe To Buy Xats/Days
Mainly Xat Trade is focused on the xat economy and trading.
Like Marketing A Mini World.
Main Owners Of Xat Trade :Christina , 42
Copyright Reserved To Xat.
Click Here To go to Trade chat.
Ad blocker interference detected!
Wikia is a free-to-use site that makes money from advertising. We have a modified experience for viewers using ad blockers

Wikia is not accessible if you've made further modifications. Remove the custom ad blocker rule(s) and the page will load as expected.